Are you a temporary foreign worker in Canada thinking about changing your job? This article talks about how eligible candidates who urgently need a work permit can get one in a few hours instead of waiting for months.
I was happily employed as a software engineer in Montréal, when I felt the need to change my job to have a new adventure. I had already applied for the Canadian PR, but the estimated completion time was ~23 months. Thus, to get a new job, I had no other way but to apply for a work permit, which requires 3 important things:
Time: Estimated time was 110 days when I checked.
Money: Fees for a work permit, biometrics and an immigration lawyer (optional).
Employer: Someone who is patient enough and willing to go through the hassle of immigration paperwork to hire you.
That's when I learnt about the procedure of applying for an LMIA exempt work permit at a Canadian POE (land only) where eligible applicants can get a new work permit in a few hours.
Disclaimer: I am not an immigration lawyer and this article is not legal advice.
Two minute version
If you don't need a work permit urgently, you should apply for one online.
Temporary foreign workers with a valid work permit, eligibility to enter Canada, and exempt from an LMIA are eligible to apply for an extension, or change of work permit at a Canadian port of entry.

Must be a land port of entry, i.e. airports don't count.

The process is fairly easy and a new work permit is issued within a few hours.
The process can only be done while entering Canada. Thus, one can

Either do a flagpole; or
Or take a trip to the USA and apply on their way back.

Applications are only accepted on certain days of the week during certain hours.
It can take anywhere between 1 to 8 hours.
Traveling by bus might complicate things if your bus leaves without you.
Check everything thoroughly before leaving the CBSA office.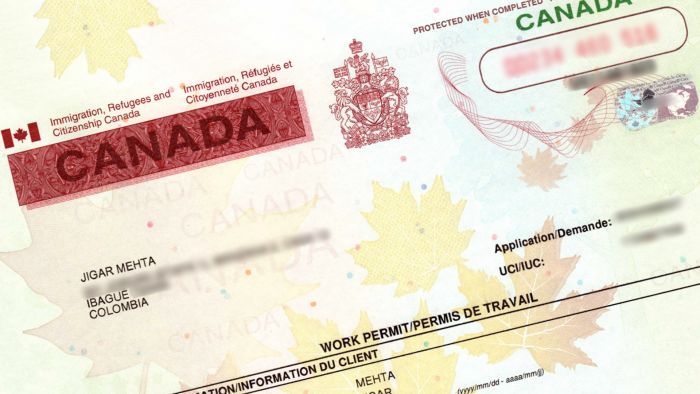 Eligibility
Only eligible candidates can apply to extend or change the conditions of work permit at a port of entry. I was eligible because:
I was a temporary foreign worker, holding a valid work permit.
I held a temporary foreign worker visa.

Candidates who do not need a visa to enter Canada are also eligible.

I was exempt from an LMIA because I held a CSQ.
I had a written job offer from my employer.
I had a valid offer of employment number, paid for and obtained by my employer through the Canada immigration portal.
I met all the requirements for the job being offered to me.
All my documentation was in order.
These were the conditions when I applied in Jan 2020 and they might change from time to time. I recommend you to go through the official instructions on CIC's website before applying.
Documentation
Since I met all the requirements, I was ready to prepare my application. Here's a list of documents I had to carry with me to support my application. Look for the application package relevant to your case on Canada Immigration's website.
A valid passport.

If your passport expires soon, renew it before applying.
This is because a work permit can't be issued beyond the validity of your passport.

A copy of my CSQ.

This is what made my application exempt from an LMIA.

A copy of a written offer of employment from my potential employer.
A valid offer of employment number and payment receipt for the same.

The employer obtains it through the Canada Immigration website.

An updated copy of my résumé.
Documents to support my CV and to prove your educational and work qualifications. Example: education certificates, etc.
A use of representative form.

I was represented by an immigration lawyer, so I had to carry this.

A copy of the main page of my passport.
A copy of a valid temporary worker visa.

This made me eligible to reenter Canada.

A copy of my valid work permit.
Take originals for all copies just in case you're asked for them.
From my experience, group all the documents that you want to submit. Remove any extra documents that you don't want to submit, because the immigration officer will take the entire bunch from your hand and will not give you a chance to remove extra documents from the stack.
Make sure you get back original documents that you submit. If you have questions, ask the officer and they will explain.
At the end of the process, the officer returned the entire application package to me along with a shiny new work permit with all the special clauses that my employer had requested.
Procedure
With all the right forms and documents, the time had come to submit my application. If you can wait for your new work permit, you should apply for it online. This is because applying for a work permit at the border doesn't guarantee that you'll get one immediately. Also, it increases the work load of border control officers as they end up doing immigration procedures instead of their regular border control work.
Lying to an immigration officer or a border control officer is a federal crime.
In my case, I wanted to start my new job soon due to some personal and professional reasons. Hence, I decided to apply at a Canadian port of entry. When I originally entered Canada, I got my first work permit at an airport. However, with extension and change of conditions, the application must be submitted at a land port of entry - airports and sea ports don't count. Also, the application can only be submitted while reentering Canada.
Here are the steps I took to get a new work permit allowing me to work for a new employer.
Prepare all documents: including original documents to support copies.
Plan a trip to the border in one of the following ways.

Do a flagpole (explained in the next section).
Visit a city in the USA and return by car/bus. I went from Montréal to Boston.

On your way back to Canada, when you reach the CBSA office, tell the border control officer that you want to apply for a work permit.

You will be asked to put in a different queue.
The officer might let the bus leave without you, so have a plan B.

An officer will ask you questions and then you will need to present your work permit application along with all supporting documents.

Do not submit the originals unless you're asked.

You'll be in waiting room, awaiting your turn.

It might take anywhere between 1 to 8 hours! I recommend packing some food, just in case.
If there's a long queue, you might be asked to come back on another day.
Applications are only accepted during specific times on specific days. Read the timings for the border control office that you plan to visit – the information should be there on the CIC or CBSA website (see the next steps section).

When it's your turn, an officer will call you to:

Ask you questions, (if required).
Produce additional documents (if required).
Do your biometrics, i.e. fingerprints (if required).
Collect your new work permit (if approved).
The officer will return your entire application along with all supporting documents to you. At least that's what happened in my case. When all this is done, you can wait for the next bus, drive back or hitch a ride like I did 🚘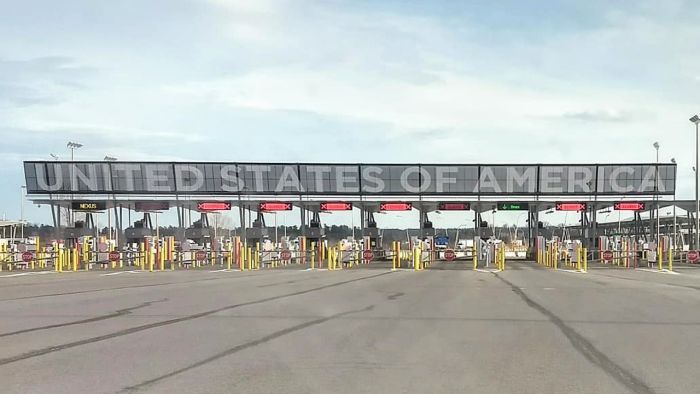 Flagpole or regular travel
Flagpole is a fancy immigration term where
you go to the Canadian border to leave Canada temporarily to flagpole.
you reach the USA from where you take a U-turn to reenter Canada.
Border control officers are aware of the procedure, so you can honestly tell them what you plan to do. Make sure you have a valid Canadian visa or are allowed to reenter Canada, otherwise, you might get stuck between the borders of the USA and Canada. If you do not have a visa to enter the USA, the American border control officer will refuse you entry into the USA and send you back to Canada to do your flagpole.
Personally, I didn't like the concept of a flagpole and my lawyer recommended me to do a regular trip to the USA since I had a valid B1-B2 visa. So, I planned a 3 day trip to Boston to enter the USA as a tourist. On my way back, I submitted my work permit application and got a new work permit at the CBSA office at St-Armand/Philipsburg.
Means of transport
I went to the St-Armand/Philipsburg border. Honestly, there's not much to see or do there, except the border control offices. Driving was not an option for me, so I took a bus to go from Montréal to Boston and back. Cabs were not available in this area and calling one by phone would've cost me $200 or more.
Since I went by bus, I was aware of the risk of the bus leaving without me at the border. So, I created a plan B where a friend would go to the border and pick me up in case something went wrong. Usually, if one bus leaves, you can board the next bus from the same service provider if they have empty seats.
My experience
When I decided to change my job, I already held a CSQ and I had already applied for the Canadian PR. However, the PR process showed an estimated waiting time of ~23 months! Thus, I needed a work permit to work for a new employer. Most employers were rejecting me immediately after learning that they'd have to wait for 3 months before I could get the documentation to work with them.
Differences in Québec
Unlike many other provinces, the provincial selection/nomination document in Québec (i.e. CSQ) doesn't make you eligible for an open work permit.
I wish that CSQ holders were eligible for open work permits.
I worked hard to pass a French test with 6 months of preparation to get the CSQ, but the CSQ only lets you apply for the Canadian PR and it makes your work permit applications exempt from an LMIA.
Resignation
Having gotten a written job offer from my potential employer, I told my then employer that I had applied for a new job and that I was going to attempt to get a new work permit. My ex-boss is very nice and he cooperated to the fullest.
Your employer cannot penalize or deport you for looking for another job.
Canada protects the rights of temporary foreign workers so that they cannot be exploited. If you know somebody who needs help, please share this information with them.
Visiting the border
I didn't want to do a flagpole  so I planned a 3 day trip from Montréal to Boston which takes ~9 hours by bus. I took 3 days because I wanted to relax and explore the historic city of Boston. I could've simply stayed anywhere in the USA for one night and come back, but I wanted to have fun 🥳.
Before booking my bus, I had a word with the service provider to find out the border office where I'd reenter Canada. On my way back to Montréal, I informed the bus driver that it might take me ~45 minutes to come back and in the worst case scenario, he might have to leave me behind. When I reached the border at 1:00 pm, a border control officer instructed the bus to leave me behind (after consulting with me) because there were 11 people in the queue 🚍.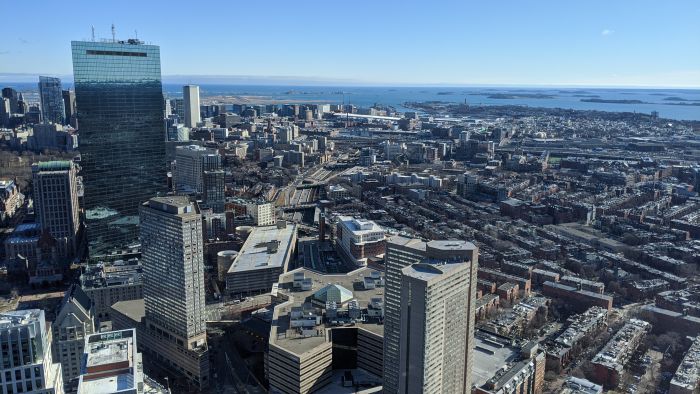 Getting a work permit
I presented my application package which the officer took to his desk. I wanted to remove some extra papers that were in there (including my original CSQ), but I wasn't allowed to do so. The officer simply asked me not to worry and promised to return the documents later.
When it was my turn, I was called by an officer who helped me get my biometrics (fingerprints). My paperwork was in order, so my application was approved. At this time, I let the officer know that I needed 2 special clauses in my work permit and explained the reason for the same. Next, I had to pay the necessary fees and my new work permit was handed to me along with all the forms and documents I had submitted.
Important: Check the work permit thoroughly and make sure everything is in order. Also, make sure you get back any original documents that you submit.
Russian ladies
After my bus left, the officer regretfully informed me that due to a change in bus schedules, I'd have to wait for 9 hours for the next bus 😅. The only food and drinks at the border control office at the St-Armand/Philipsburg office are from vending machines. I'd recommend you to pack some food if you plan to visit 🍽. Worried, I started socializing and trying to find myself a ride back home.
I am a language-enthusiast, which helps me break the ice with ease. I talked to a Brazilian couple, a gentleman from Montréal and finally, 2 beautiful Russian ladies 👩‍👧. I greeted them in Russian, and explained my situation to them in French (in Québec most people speak French). After quick discussion among themselves, they agreed to bring me to Montréal. This was the first time I thanked someone in Russian 😉.
Unfortunately, one of those ladies didn't get her permit because she was missing a document. In return for their favor, I gave them informal immigration advice and they thanked me by giving me some Russian cookies 🇷🇺 In no time, I was home and the first thing I did was celebrate with some snacks and drinks.
Conclusion
Eligible temporary foreign workers can apply for an extension or change of work permit at a land port of entry if they need one urgently.
The process is fairly easy and a new permit is issued within hours.
Traveling by a bus might complicate things if your bus leaves without you.
Check everything thoroughly before leaving the border office.
Next steps