Year 2017. I moved to the city of Montréal in the Province of Quebec in Canada with the intention of starting a new life. I was told that getting the permanent residence (PR) of Canada would take a year and 10 months, however, it took 3 years and 9 months! In this article I'll discuss my immigration story and my experience of becoming a permanent resident (PR) of Canada.
Why Canada?
I was barely beginning to feel comfortable with my life in Colombia, when I decided to move to a different country because I found it difficult to save money in the city of  Bogotá. I considered moving to Spain, Italy, Germany, and some others. In the end, I chose Canada because of its multiculturalism, standard of living, and the French background of Quebec.
Besides, in many countries, it takes a long period of 5 years or more to obtain permanent residence. Usually, one has to have a specific kind of a job in order to stay in the country until they obtain the PR.
When you're abroad on a work permit, the stability of your life depends on your job.
Canada's PR process is advertised as fast and it is indeed faster than many countries. This means, one can be free from the restrictions of a work permit sooner. Additionally, getting the Canadian citizenship is fairly easy. Thus, I had one more reason to move to Canada.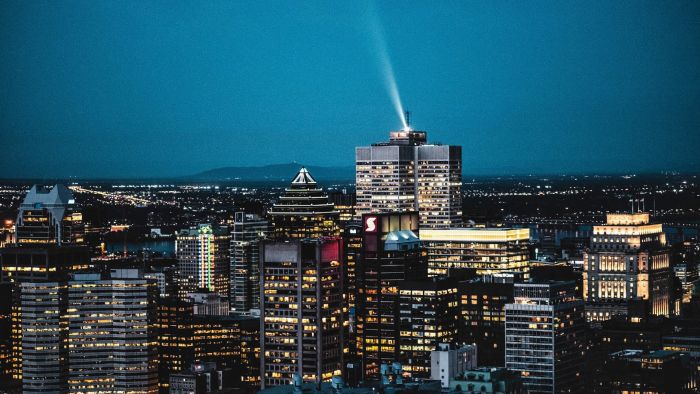 2 minute version
I chose to move to Québec because I read that one could get a PR in under 2 years.
My application was slowed down due to a change in Québec's immigration policies.
Here's my timeline at a glance (dates are not accurate):

Entered Canada: May 2017.
CSQ received: Jun 2018.
Federal application: Nov 2018.
AOR: Jan 2019.
Police certificates requested: Mar 2020.
Medical exams requested: Nov 2020.
Medical exams passed: Nov 2020.
Ghost update: Jan 2021.
Decision made: Mar 2021.

I thank Canada for having given me a new home.
IMO, the immigration process could be faster and more transparent.
Expected timeline
In 2016, I was told that settling down in the province of Quebec as a PR would take ~22 months: 12 months for getting Quebec's approval and ~10 months for getting an approval from the Federal Government of Canada. I did my calculations and planned my future accordingly. Here's what my original plan was:
Get a nice job in Montréal to get a work permit valid for 2 years.
Work hard and get a B2 score in a French language test in 10 months.
Get a CSQ under the "fast-track way", i.e., the PEQ program in a year.

A CSQ is a document issued by Quebec to say that the document-holder is "welcome to settle down in Quebec".

Start the Federal phase of the paperwork ASAP.
Get the Canadian PR before the work permit expires.
I did everything according to my plan, but the timeline changed drastically due to external factors, mainly, a change in the Government of Québec.
Actual timeline
At the point of writing this article, I realize that my initial plan was too good to be true. I believe there are 3 things you need to become a Canadian permanent resident in the province of Québec:
Ethics: Be honest and provide facts backed by genuine documents. Lying in your immigration paperwork is a crime and you can face severe consequences for it.
Money: Have money to pay the fees for the PR, lawyer (optional), medical exams, biometrics, and above all, to keep renewing your permit/visa until you're a PR.
Patience: Be ready to face delays and spend sleepless nights wondering why your application is stuck. Alternatively, learn to be patient and to let go 🧘🏽‍♂️.
I'm told that I'm good at following plans. However, my plan had other parties involved, and I had no control over their decisions and actions, i.e. MIFI and IRCC. Read on to know what happened.
CSQ timeline
Here's a timeline of the first part of getting the PR in Québec, i.e. getting the CSQ.
Month 0: First Work Permit
I got my first work permit and I was super-excited to fly to Montréal. I had watched videos of the city and even started learning French, so I couldn't wait to get there. However, I was issued a work permit that was valid for only 1 year instead of 2 years which is more common. This made my life difficult as I had only 12 months to obtain my CSQ.
Month 1: Landed in Montréal
I landed in Montréal and without wasting any time, I started learning French so that I could get my CSQ as soon as possible. In the first 6 months, I didn't enjoy much because after 9 hours of work and 2 hours of regular French learning, I barely had any time or energy left. Still, I had to stick to my plan and keep my part of the promise.
Month 7: Passed French test
The time had come to appear for a French language test! I passed the TEFAQ with the required score of B2. I was now eligible to apply for a CSQ, but wait... I can't apply for one until I've worked in Quebec for 12 months!
Month 12: Getting a CSQ
It was a year already and it was about time to have sleepless nights 😳.
I could only apply for a CSQ after working in Quebec for 12 months.
I couldn't stay in Quebec for 12 months if I didn't renew my permit.
I couldn't renew my permit easily, unless I had the CSQ (to be LMIA exempt).
You can read more about this in the article: How I Got a CSQ in 3 Weeks. In the end, I did get my CSQ and my renewed work permit, however, the experience was not pleasant.
Federal timeline
After you have the CSQ, you need to apply for a Permanent Residence with the IRCC.
Month 13: No visa, no vacation
It is not sufficient to have a work permit if you want to travel abroad. You can leave, but you cannot come back to Canada unless you have a Temporary Resident Visa (TRV). In order to get this visa, you need to mail your passport to the immigration authorities so that they can paste/print it on your passport. Thus, I had to wait for 2 more months before I could apply for my PR.
Month 17: Apply for Permanent Residence
After months of collecting and preparing documents, the time had finally come to seal the envelope containing my 50 page application for the federal part of the PR process.
Paper applications are slower to process than online applications.
Unfortunately, paper application was the only way for the Quebec Skilled Workers Program, so I didn't have a choice.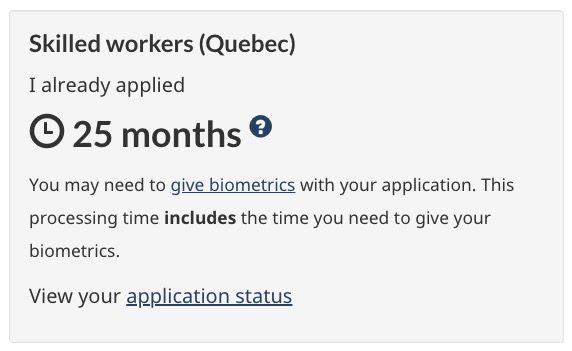 Month 20: Acknowledgment Of Receipt (AOR)
3 months after my application was delivered, I finally received an AOR. At this stage, I believe an IRCC agent opens the envelope and performs a completeness check of the application. If the application has any major issues, it is mailed back to you and you have to start again.
Getting an AOR implies that your application is complete and it will probably not be returned to you.
Luckily, I had checked my application ~5 times so I got an AOR email saying, we have received your application. The email contained my application number and instructions on setting it up with my online account on canada.ca to easily track the progress. I also received a refund for some extra fees that I had paid while submitting my application.
Now, the eternal wait begins.
Month 32: Background check
Finally, I got an email requesting police clearance certificates from Colombia and I submitted them within a week.
You read it right! For 12 months, there was no news and it is considered normal 🤦🏽‍♂️. In fact, the application tracking portal clearly states that most of the action will take place near the end of the estimated processing period.
My estimated processing period was 13 months. However, after Quebec changed its immigration laws around Feb 2019, the estimated time increased to 15 months, then 18, then 21, and finally, 27 months! That's more than 2 years!
If you contact the IRCC, you'll usually receive the same information that you can see on the online portal.
There is no way to speed up your application or to get detailed information. During these 12 months, other pending applications were being processed. Consider them people who are ahead of me in the queue.

Month 40: We got your document
Though I sent my police certificate within a week of receiving instructions, it was finally being reviewed after 8 months. Though the reason for this delay is not very clear, I assume the Covid-19 pandemic must've contributed to ~4 months of the delay.
Month 41: Medical exam request
During the several sleepless nights I've spent reading about PR timelines, I've read that a request for Immigration Medical Examination (IME) usually means that the application is almost finalized.
Within a week, I did the exams and the clinic claimed that the IRCC would get the results within 7 working days. However, due to some reason, they took 10 days. One day after the clinic sent the IME results to the IRCC, the application tracking portal showed that I had passed the medical exams.
Month 45: Giving up?
Around this point, I assumed that I wouldn't receive my PR in 2021. I was passively trying to organize a group of applicants who'd be willing to hire a lawyer and legally ask the IRCC why their applications were not being processed.
Sadly, some people who had applied 8 months after me had already been receiving their PR and it was very demotivating and heart-breaking! After having forgotten about my deadline, I was feeling much better because I had stopped worrying about my PR.
Month 46: Approved with errors
In March, I was feeling very lost because I had lost my job 3 months ago and I had no news about my PR application. The only thing I knew was that the security check (background check) had not begun. One afternoon in March 2021, I got an email saying that there was an update to my application. I logged in and I was surprised to see my COPR.

I saw that my PR application had been approved, but I couldn't see my COPR because of an error in the IRCC application portal. I immediately reported the technical error to the IRCC. Being a software engineer, I thought Internet Explorer (being a bad browser) could probably help me bypass the error (multiple content-disposition header) in the portal and indeed it did!
I finally had my COPR, but there were 3 errors: my gender, my country of origin, and my apartment number.
I immediately contacted the IRCC via the web form to inform them of the error so that they could issue me a new COPR with the corrections. Also, I had to take a recent photo of myself for the PR card. The photo I had submitted with my application was obviously not "recent" any more because over 2 years had passed.
Month 47: Corrections are complicated
Due to Covid-19, the IRCC was taking a month to reply to emails. I had a job offer in my hand, which I was going to lose if I didn't get my PR. Thus, I called them and told them about my situation. The agent was very helpful and they submitted a request for correcting my CoPR in my stead. The response time for such a request was 30 days.
I was also told that I could start a new employment after I received my corrected document, which in turn, would allow me to apply for a permanent Social Insurance Number (SIN). Thus, I had to tell my potential employer that I couldn't start the job because I didn't have the proper documentation
Month 48: Fill up forms for corrections?
On the 30th day, I received an email from an agent saying, that to correct my document, I had to apply for a Request to Amend Valid Temporary Resident Documents or Information Contained in the Confirmation of Permanent Residence. This involved a form, some documents, and a processing time of 6 months! Shocked, I called the IRCC again and asked them if this was true.
The agent was very helpful. That day I learned that the document I had received is not called a CoPR, but it's called a Virtual Letter of Landing. For correcting a CoPR, it takes longer. Again, they created a correction request on my behalf and told me that I'd receive a response within 30 days.
Month 49: Finally, a Permanent Resident
On the 30th day, I received an email saying, "a message about your application is waiting for you". I knew this had to be the corrected document and indeed it was.
Finally, the process had come to an end.
I immediately read the letter and the next step was to apply for a PR Card 🇨🇦. All I had to do was send a photograph along with a printout of the document I had received to an address in Montréal and wait for my PR Card.
Month 53: PR Card
When I applied for my first PR card, the estimated processing time was displayed as 44 days. After having waited over 88 days, I decided to send an email to the IRCC asking them about the card's status. I got a reply saying that they couldn't give me any details because they were focusing on the political turmoil going on in Afghanistan.
However, a few weeks after I got that reply, I received 2 white envelopes saying do not forward. I immediately guessed that it must be my PR card and indeed it was. I made an Indian dessert named Jalebi to celebrate .
Conclusion
Though the PR process seems fairly easy, it can take a ridiculous amount of time for it to finish. I've learned that the estimated processing time is not to be trusted. It is easier to lead a normal life if you apply for your PR and then forget that you applied. This helps keep your expectations in check.
In the end, when you get the PR, it is indeed a relief. I thank Canada for having given me a new home.
I feel that it is very unfair that the IRCC is not very transparent about what's actually going on with your immigration file. I often found myself theorizing what could be going on with my application, losing several hours of sleep trying to read people's posts on the Internet in an attempt to make an informed guess as to what might be going on with my application.
If you've applied for your PR under the Quebec Skilled Worker Program, I wish you luck. May your application be processed soon and may good be with you.
Next steps